TOP KING Retro Muay Thai shorts A-Pi-Dej

Product code:
TKRMS-002
27.75
USD
58.00 USD
52% off !
Size:
S

In-stock

M

In-stock

L

+ $2

In-stock

XL

+ $3

In-stock

3L

+ $4

In-stock
Size chart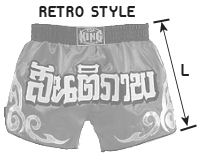 TOP KING Retro Muay Thai shorts
Size
Waist
L
S
26
10
M
28
11
L
30
12
XL
32
13
3L
34
14
In inches
Size chart is as a rough guide.
Selecting size by considering you like to ware it loose or tight.
Sizes of Muay Thai shorts vary among brands and styles.
Description
Retro Muay Thai shorts
from Top King are different from other normal Muay Thai shorts. Retro-style shorts have a shorten waistband and higher slits . The lenght of shorts is shorter compared to normal style shorts.
The center text is in Thai lettering. It says
A-Pi-Dej
which was a name of the great Thai boxing fighter.
Apidej Sit-Hirun
(September 1941 – April 4, 2013), born Narong Yaenprateep, was a famous muay Thai fighter.[1] Born in Samut Songkhram, Thailand, Sit-Hirun was best known for his powerful kicks. In one fight, he broke both of Sompong Charoenmuang's arms, and forced the fighter to retire. He is considered the hardest kicker in muay Thai history. Apidej simultaneously held no less than seven muay Thai and boxing titles for a period during the 1960s.[2] Thereafter, he was acclaimed as a national hero and Muay Thai Fighter of the Century by HRH King Bhumibol Adulyadej.[3] After his retirement, Apidej taught as an instructor at the Fairtex school outside Bangkok, Thailand alongside modern champions such as Yodsaenklai Fairtex and Kaew Fairtex. He died of lung cancer at the age of 72 on April 4, 2013, at Phramongkutklao Hospital, Bangkok.
Source:
http://en.wikipedia.org/wiki/Apidej_Sit-Hirun
Source:
http://www.wmcmuaythai.org/2013/04/05/apidet-muaythai-marvel-passes-away