KIDS Muay Thai shorts - Classic - LIGHT Blue

Product code:
TH-S-003-LB
8.99
USD
20.00 USD
55% off !
This item is not available at the moment.
Size chart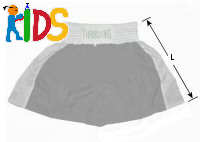 THAIBOXING Muay Thai shorts (KIDS)
Size
Waist (To fit)
L
Ages About
SSS
20 up to 23
12
3-6 Y
SS
21 up to 24
13
6-8 Y
In inches
Size Chart is as a rough guide.
Selecting size by considering you like to ware it loose or tight.
Waist and length of kids is more important than ages.
Sizes of Muay Thai shorts vary among brands and styles.