These are options for custom logo on each product detail page. Please see the below picture.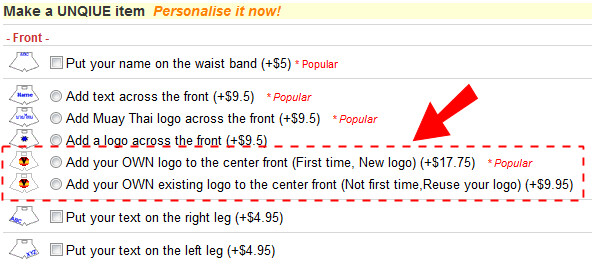 Select the custom logo on the product detail page.
If you have never used this logo with us before, please choose the first option " Add your OWN logo to the center front (First time, New logo) ". You will need to send your logo to us via email after you have placed your order. The format files of logo that we accept are .PNG, .JPG, .GIF, . PSD, and .PDF. The resolution of the picture should be larger than 1200 x 1200 pixels.

If this is not the first time for this logo, please select the second option " Add your OWN existing logo to the center front (Not first time,Reuse your logo) ". (the price is lower than the first time) if you know your logo id, please put it in to the logo id box. If not, just leave it blank.

Then, add the product into your shopping cart.